---
THE BATTLE OF NUŠTAR:
THE FIRST AND LAST DEFENCE LINE OF THE CITY OF VINKOVCI
Piše: Peter Anthony Ercegovac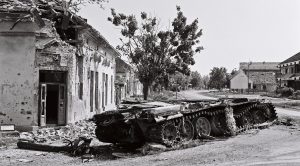 Nuštar from the very beginning of the war found itself in an awkward strategic position, being a Croatian village surrounded by villages with majority ethnic Serbian populations. Already as hostilities began in July 1991 throughout Eastern Slavonia and Baranja local authorities began to reorganise civil defence along military lines. Volunteers were sought from the local community to man guard posts along major traffic routes and the periphery of the town in order to scout the activities of the JNA. Most were young people in their late teens and early twenties. Though young they came from many forms of life: students, agricultural workers, labourers as well as doctors and schoolteachers. Whilst the first initial defence positions were established the population of the village slowly withered away as families and elderly people left to more secure Croatian cities behind the front lines.