15.11.1991.:RAZARAČ SPLIT JE DOŠAO,
ALI NAŠ RADIO I DALJE SE ČUO
Piše: Blanka Matković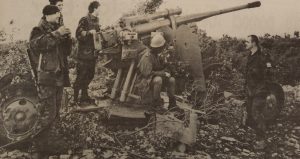 "Napad na Split – Preokret u ratu na moru: Jadran više neće trpjeti blokade", naslov je teksta objavljenog u Slobodnoj Dalmaciji 16. studenog 1991., dan nakon napada na grad Split. Bile su to proročanske riječi jer bojevi u Splitskom i Korčulanskom kanalu ( 15. i 16. studenog 1991.)  predstavljali su velike pobjede tada još mlade Hrvatske ratne mornarice (HRM) nad znatno nadmoćnijom Jugoslavenskom ratnom mornaricom (JRM). Ovim pobjedama HRM je deblokirala sve hrvatske luke, osim Dubrovnika, i uspostavila normalne komunikacije na moru, a JRM je bila prisiljena povući se iz unutrašnjih morskih voda Republike Hrvatske u njena posljednja uporišta na otocima Visu i Lastovu odakle njeni brodovi više nisu isplovljavali radi bojnih djelovanja i odakle su se konačno povukli u svibnju 1992. Osjećaji ponosa i sreće koje smo tada osjetili nažalost nisu potrajali. 18. studenog pao je grad Vukovar, a istog i narednog dana  (19. studenog) okupirana su ravnokotarska sela Škabrnja i Nadin gdje su srpski teroristi masakrirali velik broj mještana.
---
Oluja, 21 godinu poslije
 BLISTAVA POBJEDA HRVATSKE VOJSKE NAD SRPSKIM
NACI-FAŠIZMOM 

Piše: Zlatko Pinter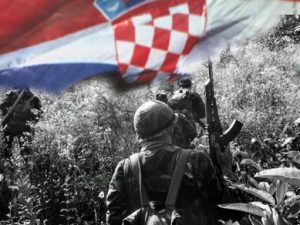 Više od 1.800 dana hrvatski narod i građani Republike Hrvatske na vlastitom su teritoriju trpjeli divljanje terorista koji su skupa sa svojom subraćom iz Srbije i Crne Gore, koristeći udarnu snagu i resurse tadašnje federalne vojske ("JNA") u okviru udruženog zločinačkog pothvata, genocidom i etničkim čišćenjem, uz masovne zločine i golema razaranja nastojali provesti svoj bolesni naum o "ujedinjenju srpskih zemalja". Vojno-redarstvena operacija "Oluja" spriječila  je ovaj osvajački projekt koji u svojoj suštini nije bio ništa drugo do odraz stanja bolesne svijesti u jednom (nažalost) značajnom dijelu srpskog naroda. Velikosrpska ideologija je međutim, preživjela; ne samo u glavama onih koji danas vladaju Srbijom i odgajaju  javno mnijenje, nego i u svijesti stotina  tisuća običnih ljudi – Srba kojima Crkva i intelektualci iz naraštaja u naraštaj nameću lažnu povijest utemeljenu na mitovima i opsjenama, a stvaranje "Velike Srbije" pretvaraju u nacionalni imperativ prvoga reda,  jedinu moguću, neizbježnu, sudbinsku "misiju" srpskog naroda od čijeg ostvarivanja ovisi sve, pa i sama njegova opstojnost. U svojoj srži, velikosrpska ideologija temelji se na rasizmu (teoriji srpske "nad-rase")  i konceptu neprestanog širenja životnog prostora silom, pa se usporedba s naci-fašizmom nameće sama po sebi. Ako je tomu tako – a jeste – pozvani smo i obvezni govoriti istinu – kako o Oluji, tako i o razlozima koji su do nje doveli, uključujući naravno, uzroke svega onoga što se u Republici Hrvatskoj događalo tih ratnih 90-ih godina. A oni su mnogo dublji i složeniji nego se na prvi pogled čini.
---
 TOMORROW JERUSALEM:
Lawfare as a Means of Defining Military Doctrine in the 21stCentury, IDF as an example to the CDF in the Wake of the ITFY in the Hague
 By dr. Peter Anthony Ercegovac
& Marinko Tomašić
 "The military leadership represents the part, while the national political leadership represents the whole, the inclusive vision of the nation's resources in its striving for survival"
                                       Major  General Israel Tal, IDF
It was in the Spring of 2007 whilst working with the Assistant Director of Croatia Caritas Vice Batarelo that a conversation arose that was to provide the inspiration for this essay. Discussing the plight of the Croatian state and national identity in the wake of then seven years of the post-Tuđman era Batarelo mentioned to me that what struck him, after years of preparation for his doctorate, was the strength of desire for return amongst world diasporas and how in many ways they recognized the need for a strong national identity tied to the nation-state at a more deeper fundamental level than those who had never left their homelands. For him it was a hunger for belonging, survival and continuum best summed up by the old Jewish blessing given when families gathered to celebrate the Passover that they would one day return to Jerusalem, or as the family elder would recite "tomorrow Jerusalem". For me, as a specialist in the field of counter-terrorism with field experience with national and religious movements from Northern Ireland and the Basque Country to Indonesia and the Middle East, the question took a different slant, ie, what to do once one we arrived in Jerusalem? Does this mean that all goals were achieved and now the nation could rest on its laurels? What if others coveted Jerusalem? Who would then ensure the place of the nation once it returned to the international fold through the attainment of statehood.
For us the answer was obvious. If one was to use such an allegory then why not look at the very nation-state at the core of the phrase as an example for our people. Hence, when looking at Israel as an example for Croatia, the whole question of identity in a fledgling state surrounded by political and diplomatic obstruction at best, and enmity at worse becomes one of defence. Like Israel, we are a nation-state forged in war. Like Israel we are a manifestation of the combined desires of the homeland and diaspora alike. Like Israel international recognition has not stopped our enemies from attempting to challenge our sovereignty. But unlike Israel we have failed to formulate a core national identity that would override all superficial ideological, party political and societal divisions. We believe that the reason we have failed to create this core national identity is that we have failed to forge a national identity built on our victory, as those who are apathetic or hostile to the idea of Croatian national identity being the main foundation for our national political continuum have systematically disassembled the national ideology of the one institution that was the moral facilitating factor of our nation-state, the Croatian Army. And this was done in the name of breaking the so-called international isolation through de-Tuđmanisation.
This article will be divided henceforth into two parts. Firstly we will examine the legal aspects of the Croatian Defence Force (CDF) vis-à-vis its responsibilities toward international law, the Hague war crimes tribunal, her allies in NATO and her role as potential guarantor of national security in the post-Tuđman era. The second part will deal with the Israeli scenario, ie, IDF, and how it can provide a contemporary example for the CDF through examining how itself dealt with similar crises throughout its history.